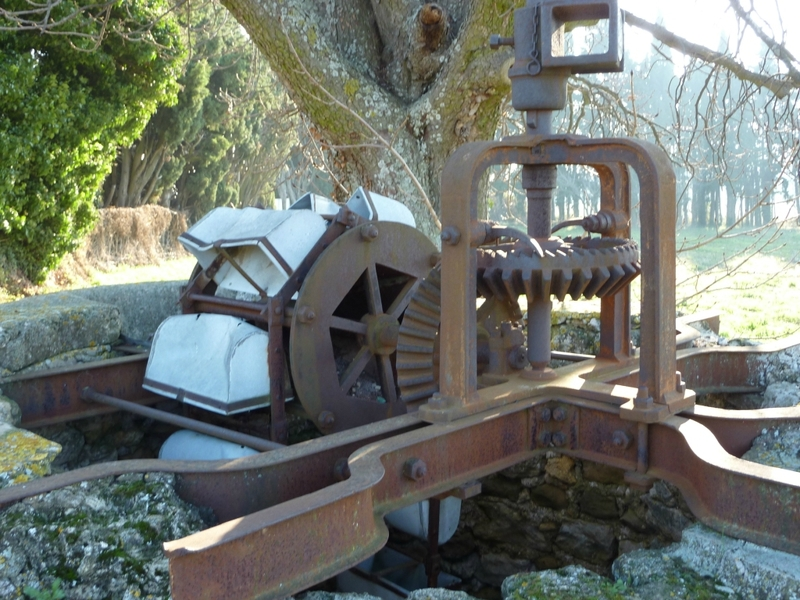 The 'noria', also known as the 'Persian wheel', is a machine used for lifting water. It has long been used for crop irrigation. Generally, a donkey or horse was used to turn the wheel, the animal wearing a blindfold to prevent it from going mad. Water was thus extracted thanks to the strength of the animal. Other kinds of noria used the energy inherent in streams and rivers to lift the water.
The term 'noria' comes from the Arabic 'Na-urah', which translates as 'the first water machine' It is used to describe a wide variety of models, including the pouso-rasco ('vomiting well' in Provençal !), pouzarenque, puiserande, posaraca (in Spain), water wheel or water mill, bucket pump, araghatta (in India), sakieh, saqkia, tympanum, tablia, and many more besides.
A similar process for extracting water is the pendulum well, also known as the chadouf.
In the collection buckets, the two outlet holes :
Allow air to escape when the bucket fills with water

Allow water to escape and empty the buckets when the noria stop

According to the plaque on the machine, this noria dates from the Napoleonic period, butat present we know nothing about the manufacturer. An identical model can be found inthe village of Bouc Bel Air.

The water is approximately three metres from the rim, and the water level in the well varies by between one or two metres, depending on the season.

An interesting point about this noria is that its well is linked to another well on the other side of the road. Moreover, there is evidence of a lintel, which is a clear sign of a channeldraining water to this well.

Last September, the Heritage Conservation association signed an 18-year lease with the owner, Mme Marcou, allowing the association open access to the structure.

We have already cleared at least one cubic metre of waste, including all manner of cans and bottles, as well as stones, branches and silt deposits.

Following the visit of 17th June, the machine will be dismantled and sandblasted to remove the rust. The collection buckets and some of the chain links will be renovated, and the wall and rims will be restored. We also plan to build a small wall around the strucutre with afence on top, thus creating a platform around the well and marking the limits of the areaunder lease.